Biotechnologies
The Biotechnology Department is equipped to develop and produce monoclonal antibodies (mAbs), biosimilars, recombinant proteins and other NBEs (New Biological Entities).
FROM DEVELOPMENT TO cGMP MANUFACTURING
Thanks to the technical skills of the specialized staff, the whole production process is followed: from the preliminary development phase (lab scale) and analytical characterization to cGMP manufacturing (authorized cGMP department for investigational active substances).
A SCIENTIFIC APPROACH TO QUALITY
Right from the very first phases of product development, experiments are planned and organized by applying the DoE (Design of Experiment) method according to QbD (Quality by Design) principles. Reliable and scalable process are setted in order to cut down times/costs and having a high quality standard.
CUTTING EDGE TECHNOLOGIES AND SINGLE-USE SOLUTIONS
For each manufacturing phase, the department is equipped with state-of-the-art technologies, prefering single-use solutions to guarantee the maximum process flexibility and product quality.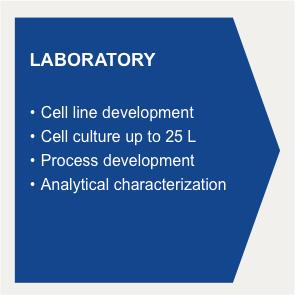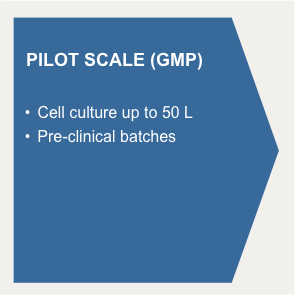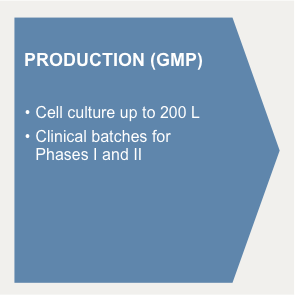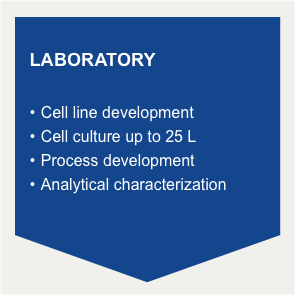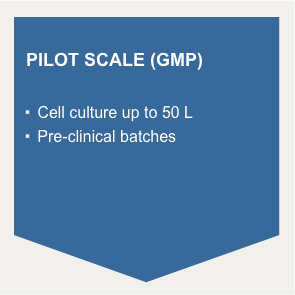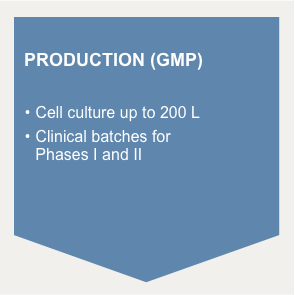 CELL LINES
Expression platform based on a mammalian cell line (CHO) validated and compliant with GMPs
Expression in E.coli (not GMP)
UPSTREAM (GMP)
single-use Wave bioreactors (2x25L)
single-use stirred-tank bioreactor (200L)
CO2 incubators
UPSTREAM (not GMP)
single-use stirred-tank bioreactor (10L)
single-use Wave bioreactor (25L)
CO2 incubator
bacterial cultures incubator (6L)
DOWNSTREAM (GMP)
pilot scale chromatography system
single-use chromatography system
single-use tangential filtration system
DOWNSTREAM (not GMP)
chromatography systems (FPLC)
tangential filtration system
MEDIA PREPARATION (GMP)
Single-use mixer (10-50L)
Single-use mixer (200L)
ANALYSIS LABORATORY
HPLC
UV-Vis spectrophotometer
Capillary electrophoresis
imaging systems
ELISA reader
ELISA plate washer
BioLayerInterferometry
Cell-based potency assays
Real-Time PCR
Flow cytometer